Audience Overview and Profile
Training has spent nearly 6 decades building one of the industry's most robust and reliable library of resources; attracting tens of thousands of users/members to multiple channels of interest. We reach L&D decision-makers "where they are" through digital subscriptions, free learning networks, and so much more.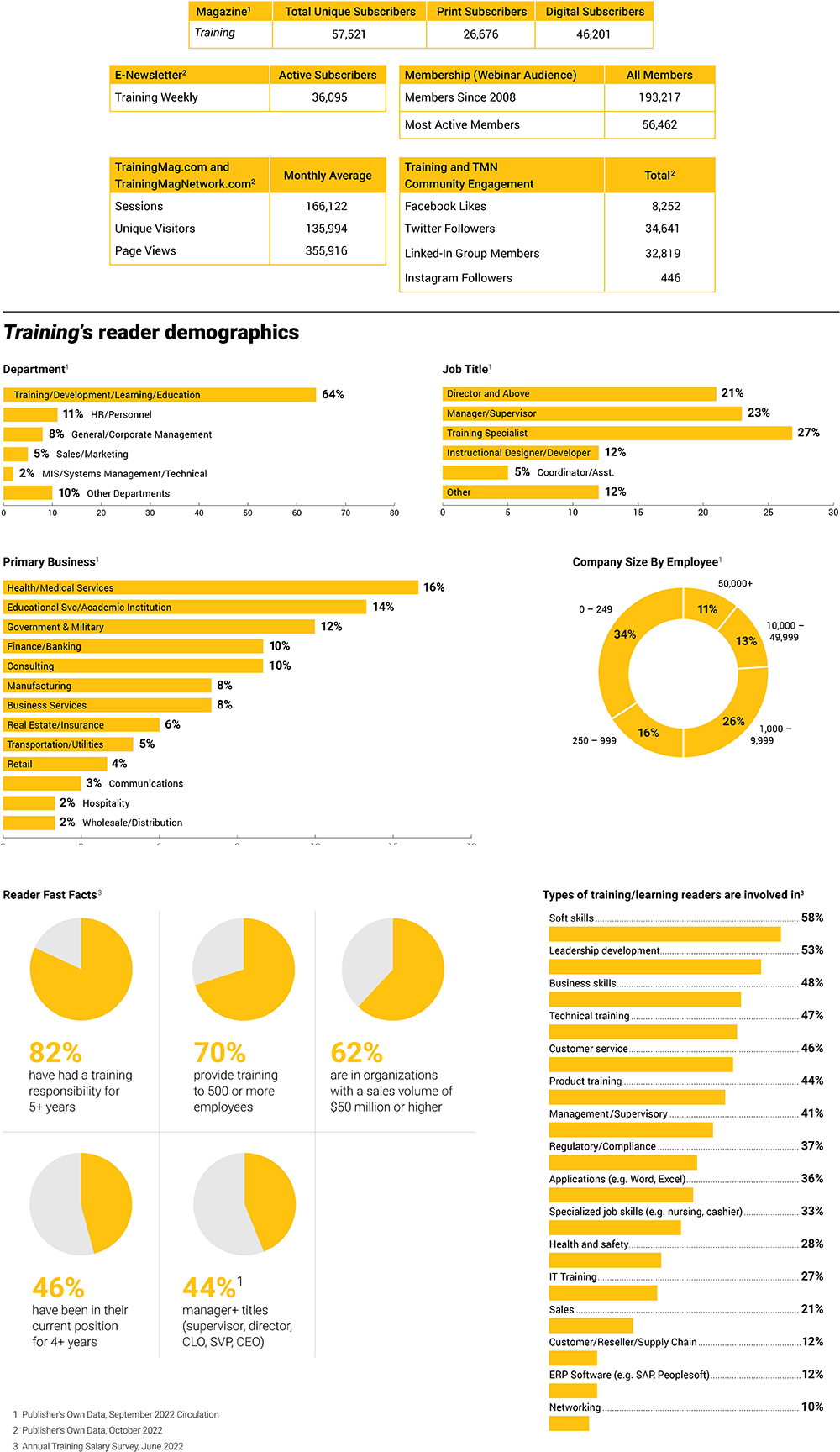 Learning professionals and leaders from the world's top organizations turn to Training as their trusted source for valuable insights, expertise, trends, and best practices. Here's a sample of companies whose employees are active subscribers of Training.
3M
Bridgestone
Dunkin' Brands
Janssen Pharmaceuticals
New York Life
Staples
7-Elevent
Bright Horizons
DuPont
JetBlue Airways
Northrop Grumman
Starbucks
Abbott Labs
BristolMyers Squibb
Eastman Chemical Company
John Deere
Novartis
State Farm
ABF Freight
Caesars Entertainment
Eaton Corporation
John Hopkins
O'Reilly Auto Parts
Subway
Accenture
Capital One
eBay
Johnson & Johnson
Office Depot
Sunbelt Rentals
Ace Hardware
Cardinal Health
Ecolab
Johnson Controls
Optum
Target Corporation
ADP
Cargill
Edward Jones
JP Morgan Chase
Oracle
TD Ameritrade
ADT Security Services
Carmax
Eli Lilly
Kaiser Permanente
Pacific Gas & Electric
TD Bank
Advance Auto Parts
Carnival Cruise Line
Emerson
Keller Williams Realty
Pacific Life
The Coca-Cola Company
Aerotek
Caterpillar Inc
Equifax
Kelloggs
Panda Restaurant Group
The Dow Chemical Company
Aetna
Centene
Express Scripts
Kelly Services
Parker Hannifin
The Goodyear Tire & Rubber Company
Aflac
CenturyLink
ExxonMobil
KFC
Paychex
The Hartford Financial Group
Agilent Technologies
Cerner Corp
EY
Kia Motors
PayPal
The Home Depot
Alaska Airlines
Certainteed
Farmers Insurance
Kiewit Corporation
Pearson
The Reynolds and Reynolds Co
Albertsons
Charles Schwab
FedEx
KimberlyClark
Penske Truck Leasing
The Walt Disney Company
Alcoa
Charter Communications
Fidelity Investments
KLA Corporation
Pepsico
Thermo Fisher Scientific
Allergan
Chase
Food Lion
Koch Industries
PETCO
Thermo King
Allianz
Chevron Corp
Ford Motor
Kohls
PetSmart
TIAA
Allied Universal
Chewy
Fox Entertainment Group
KPMG
Pfizer
TJX Companies Inc
Allstate Insurance
Chick-fil-A
GE
Kroger
Philips Healthcare
T-Mobile
Altec
Choice Hotels
Geico Insurance
Kronos
Pitney Bowes
Tommy Hilfiger
Amazon
Christiana Care Health System
Genentech
Land O'Lakes
Planet Fitness
Toyota
American Airlines
Chubb
General Dynamics
Liberty Mutual Insurance
PNC
Travelers Insurance
American Express
Cigna
General Mills
Little Caesars
PricewaterhouseCoopers
TYCO
American Family Insurance
Cintas Corp
General Motors
Lockheed Martin
Procter & Gamble
Uber
American Honda Motor
Cisco Systems
Genworth
Lowes Companies
Progressive Insurance
U-Haul International
Amgen
Citibank
Genzyme
Lululemon Athletica
Publix Super Markets
Uline
Amtrak
Coldwell Banker
Georgia Pacific
Macy's Inc
Quest Diagnostics
Ulta Beauty
Amway
ColgatePalmolive
Georgia Power
Marathon Petroleum
Quicken Loans
Unisys Corporation
Ancestry
Colonial Life
GoDaddy
Marriott International
QuikTrip
United Airlines
AnheuserBusch
Colony Brands
Godiva Chocolatier
MARS Inc
QVC
United Parcel Service
Anthem Blue Cross and Blue Shield
Comcast Corporation
Golden Corral
Mass Mutual
Radial Inc
UnitedHealth Group
AO Smith
Con Edison
Goodrich Corporation
MasTec
Ralph Lauren
Unum Life Insurance
Aon Corporation
Concentra
Google
Mastercard
Raymond James
US Bank
Apple Inc
ConocoPhillips
Gordon Food Service
Mattress Firm
Raytheon
US Cellular
Aramark
Cooks Children's Health
Graco
McDonald's
Rich Products Corporation
US Foods
Arbys Restaurant Group
Cox Automotive
Grainger
McKesson
Ricoh USA
USAA
ArcBest Corp
Cracker Barrel
Great Clips
Medline Industries
Roche Diagnostics
Verizon
AstraZeneca
Cummins
Guardian Life Insurance
Medtronic
RollsRoyce
Viking Cruises
AutoZone
CUNA Mutual Group
H&R Block
MercedesBenz
Royal Caribbean Group
Visa USA
BAE Systems
CVS Health
Halliburton
Merck and Co
Safelite AutoGlass
Volkswagen
Baker Hughes
Dart Container Company
Harley Davidson Motor Company
MetLife
Sally Beauty Holdings
Volvo
Bank of America
Davita
Harvard University
Metso
Samsung Electronics America
Walgreens
Banner Health
Dell
HealthPartners
Michelin North America
Sanofi Pasteur
Walmart
Bausch & Lomb
Deloitte
Heatlh Care Service Corp
Microchip Technology
SAP
Waste Management
Baxter Healthcare
Delta Air Lines
Hewlett Packard Enterprise
Micron Technology
Schneider Electric
Wells Fargo
Bayer Healthcare
Denny's
Hilton
Microsoft
Scripps Health
WellSpan Health
Benjamin Moore
DIRECTV
Honda of America Mfg
MillerCoors
ServiceMaster
Westinghouse
Best Buy
Discount Tire
Honeywell
Mohawk Industries
Sharp Electronics
Weyerhaeuser Company
Big Lots Inc
Discover Financial Services
Hormel Foods Corporation
Molson Coors
Shaw Industries
Whirlpool Corp
Biogen
Dish Network
Humana
Monsanto Company
Shell Oil
Wyndham Worldwide
BMO Financial Group
DOD
Huntington National Bank
Morgan Stanley
Sherwin Williams
Xcel Energy
BNY Mellon
Dollar General
Hyland Software
Motorola
Siemens
Xerox
Boehringer Ingelheim
Dollar Tree
Hyundai
Mutual of Omaha
Sodexo
Yale University
Booz Allen Hamilton
Dominion Energy
IBM
Nationwide Insurance
Southwest Airlines
Zieglar CAT
Boston Scientific
Dot Foods
Ingersoll Rand
Navient
Spectrum Health
BP
Duke Energy
Intel Corp
Nestle Purina Pet Care
Stanley Black & Decker