Digital Sponsorship + eNewsletter
Digital Partner Program
Bolster your brand dominance and reach Training's full web and email audience with this high-impact digital partner program.
LIMITED: Only 8 advertiser partners per month. Minimum 125,000 banner ad impressions per month, per advertiser; plus a minimum 200,000 logo impressions ($7 CPM!)
Includes pervasive branding:
in the Training Weekly eNewsletter
Sitewide rotation
Your logo also included in sitewide rotation ("Online Sponsor" feature)
Your logo also included in magazine print ad showcasing monthly sponsors
Metrics reporting included
High-impact ad units include:
970 × 250 billboard
300 × 600 skyscraper
300 × 250 premium square
(for mobile and eNewsletter only)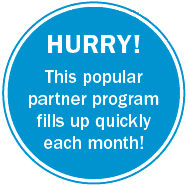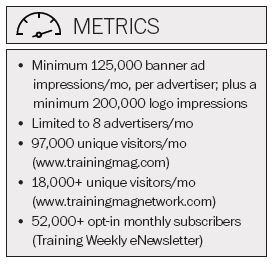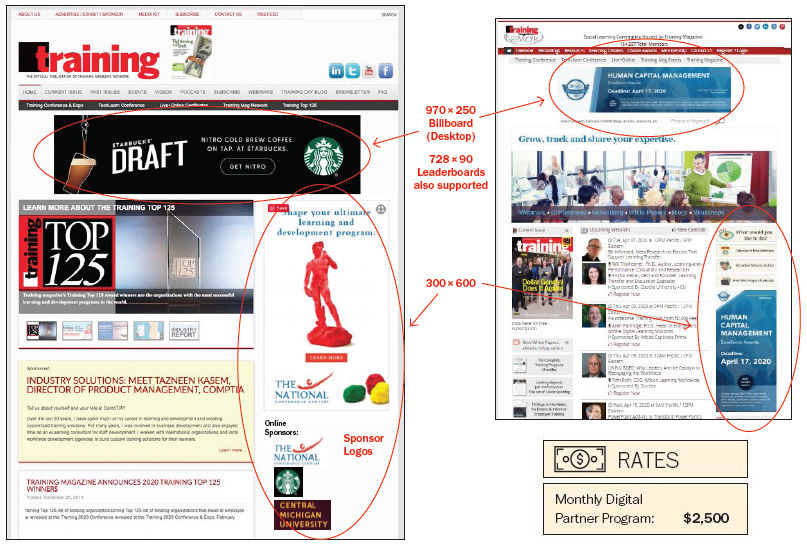 Banner Placements
Top:
Desktop – 970 × 250 (billboard);
also supports 728 × 90 (leaderboard)
Mobile – 300 × 250 (rectangle)
Sidebar:
Desktop – 300 × 600
Mobile – 300 × 250 (rectangle)
Recent digital sponsors include:

Training Weekly eNewsletter

Every week, this popular eNewsletter provides relevant news and business intelligence to 52,000+ training and L&D leaders and professionals. Featuring proprietary Training magazine content not found anywhere else, this is the savvy choice for building brand exposure with a targeted, highly engaged audience every week.