Monthly Digital Sponsor
Bolster your brand dominance with an online sponsorship package — Training and Training Magazine Network
LIMITED: Only 8 advertisers per month 125,000 impressions per month, per advertiser ($20 CPM)
Includes banners:
in the Training Weekly eNewsletter
Sitewide rotation
Your logo also included in sitewide rotation ("Online Sponsor" feature)
Your logo also included in magazine print ad showcasing monthly sponsors
Metrics Reporting Included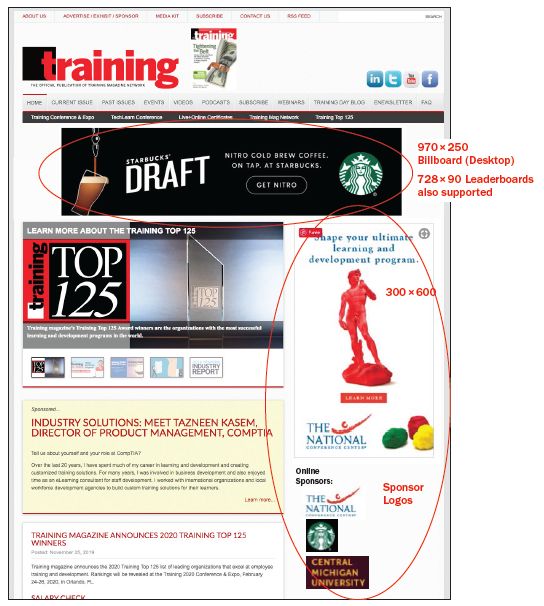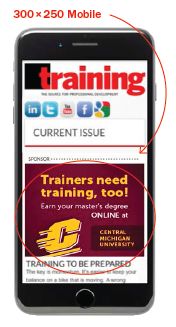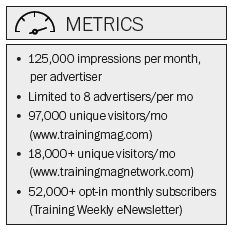 Banner Placements
Top:
Desktop – 970 × 250
(billboard);
also supports 728 × 90
(leaderboard)
Mobile – 300 × 250 (rectangle)
Sidebar:
Desktop – 300 × 600
Mobile – 300 × 250 (rectangle)

Training Weekly eNewsletter banners

Every week, this popular eNewsletter provides relevant news and business intelligence to 52,000+ training and L&D leaders and professionals. Featuring proprietary Training magazine content not found anywhere else, this is the savvy choice for building brand exposure with a targeted, highly engaged audience every week.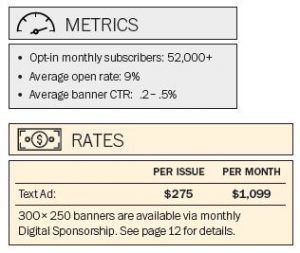 Travel with them
Retargeting campaigns allow you to deliver your banner ads to our website visitors AFTER they have left our website! Once visitors have been to TrainingMag.com, they become a member of our retargeting lists. This NEW program allows you VIP access to market directly to this highly qualified audience!
When your banners are placed in our retargeting program, your ads "follow" our visitors while they perform Google searches and visit other partner websites within Google's expansive Search and Display Networks. Google Search is the gold standard of internet search engines. The Google Display Network reaches 90% of internet users worldwide and includes more than 2 million publishers, including websites like nytimes.com and weather.com and Google-owned websites like Gmail, Blogger, and YouTube and more.
Retargeting campaigns are an excellent way to "nudge" Training's qualified audience by remaining relevant in their online activity, thereby building brand awareness and shortening the amount of time necessary for conversion.